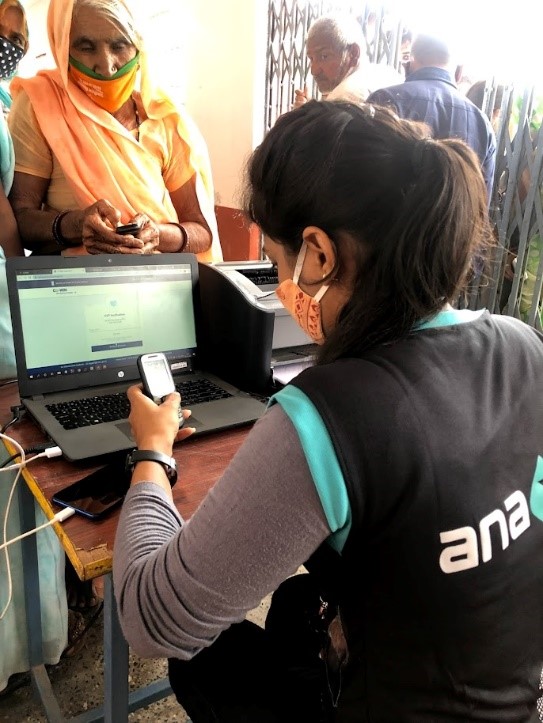 Anaxee employment opportunities in rural India
Sep 11 2021
---
Anaxee shows how Digital Technology can provide Employment Opportunities in Rural India.
In current Covid times, technological advancements in the Digital sphere are increasingly shaping various aspects of our life. In the past two decades, India has witnessed exponential economic growth and is ranked among the top five economies of the world. However, this growth hasn't helped to provide employment opportunities in the rural areas of our country.
Seeing this Prime Minister, Narendra Modi has prioritized radical digitalization to induce economic inclusiveness through a host of initiatives like 'Digital India' to provide impetus and opportunity to rural citizens so as to ensure that they are equal participants in India's growth story. As per Niti Aayog, in 2050, over half of India's population will still be rural.
By utilizing the opportunities provided by "Digital India", Indore base Annexe Digital Runners Pvt. Ltd., a forerunner among startups in digital innovation, has been playing an active role in transforming millions of lives in Rural India. Through its app-based services, reaching far beyond into the remotest part of India, Anaxee is covering the length, breadth, and depth of India – from Kutch to Kamakhya, from Kashmir to Kanyakumari. Currently, the company has operations in 26 states and is engaged in building India's largest last-mile network of 250000 Digital Runners who are tech-enabled feet-on-street of rural youth, spread across 540 Districts, 26 States, and 11000 Pin codes.
Anaxee is using Digital Technology to provide Employment Opportunities in Rural India.
Anaxee, a tech-enabled last-mile outreach, and data collection company is uniquely poised to assist in the radical seamless digital rural transformation from the ground up for the vast rural citizen base in the country. It has been part of India's digital journey starting from the grassroots level and will enable its rural population to be an integral part of India's growth trajectory.
At the helm of this tech startup is Shri. Govind Agarwal, its firebrand CEO & Founding Director who predicts "The traditional ways of doing business in rural areas will change much more than we ever imagined and will see the deployment of innovative digital technologies in ways of doing business and creating employment opportunities in the sunrise market segments of tier 2 & 3 cities of Rural India".
Anaxee has innovated "Digital Runner" a tech-enabled personified feet on street comprising of youths of rural India and equipped them with app-based technology on their Smartphones in form of "Anaxee Partner App" & "Anaxee Digital Runner App", designed to provide a multitude of benefits as well as a variety of electronic services to villagers. Through these apps, these "Digital Runners" earn handsome sums of money by successfully completing tasks assigned to them.
Among the electronic services, Anaxee's "Project Swaraksha", the door-to-door COVID vaccination awareness campaign covering the villages of India, aims to reach out to the people living in the remotest villages, who have "vaccine hesitancy" for convincing them to get vaccinated. The Digital Runners working under this project have to educate and counsel such people about the benefits of getting vaccinated and also have to ensure that they take their vaccine shot as soon as possible. Under this project the earning potential for the rural youth is excellent.  A Digital Runner is paid a sum of Rs. 50/- per vaccinated person and thus can earn anywhere from Rs. 5,000/- to Rs. 15,000/- per week!
This will provide additional income avenues to the village youths within their rural areas along with a host of other services offered by Anaxee such as Rural Survey, App Marketing, Data Collection, Address & KYC Verification as well as Digital Customer onboarding. These opportunities will also help in curtailing their mass migration to bigger cities for finding work. Anaxee is thus promoting their digital and financial inclusivity, promoting rural entrepreneurship and building rural employment opportunities as well as spearheading the dramatic rural change that's underway.
Anaxee, helming a socio-economic revolution by reaching remote villages through its Digital Runners
Through its Digital Runners, Anaxee is slowly reshaping every aspect of life in villages by introducing accessible Smartphone app-based technology, catering to the new, emerging needs of rural citizens. Here, Anaxee has made significant contributions towards creating employment opportunities for the youth living in the rural areas of our country by helping them to find meaningful employment for themselves in their own villages or local areas. Thus Anaxee is playing a decisive role in bringing about socio-economic development across different remote geographic locations in Rural India.
****