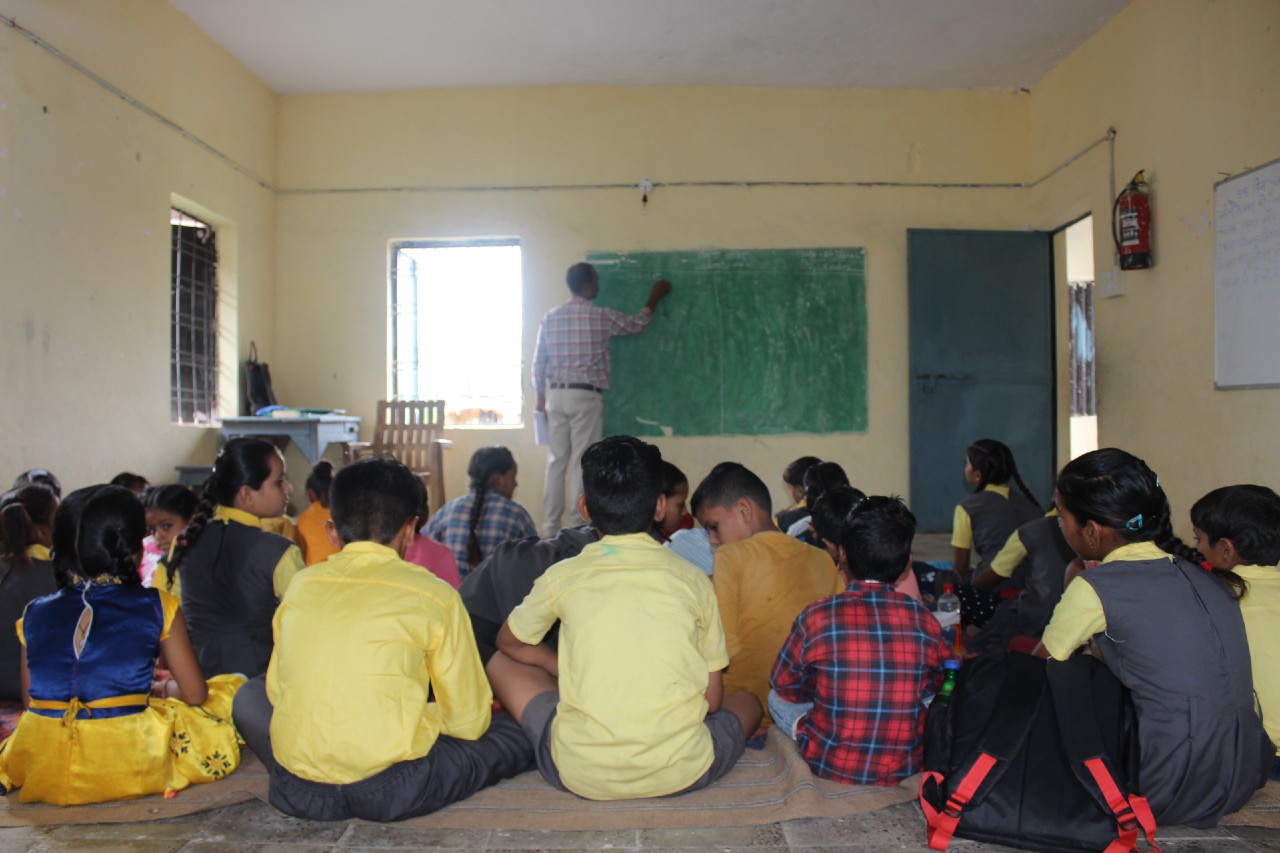 Breaking Barriers #01: Arun's Inspiring Journey to Higher Studies
Jul 8 2023
---
"Education is one thing no one can take away from you".
'Is there anyone who wanna come here and solve this?', Mr. RS Kumar, a teacher in the government school in Darkha village of Jamui (Bihar) challenges his young students to solve a daunting math equation on the blackboard.
He is looking at the students' eyes, hoping to see confidence. However, when he looks around the classroom, there is complete silence, and nobody seems confident. He asks again, 'What happen? Is there no one in the classroom who can solve this equation?'
In the midst of silence & everyone feeling unsure, Arun rises his hand. Arun is a talented boy known for his unwavering love for mathematics.
Mr. RS Kumar's eyes are meeting Arun's with a mix of surprise and admiration. The teacher has long been recognizing the brilliance within Arun. With a warm smile and little nervousness, Arun comes forward and solves the math equation correctly.
Mr. RS Kumar is beaming with pride and at the same time he is feeling sad about Arun's unfortunate fate.
Who is Arun?
Arun is a poor boy born in the Darkha village of Jamui district. He possesses a remarkable talent for mathematics. His mind could solve complex equations with ease, and his passion for learning knew no bounds. Unfortunately, fate had dealt him a difficult hand early in life.
Arun had lost both his parents in a devastating bus accident when he was just a child. Left with a shattered heart and a world devoid of love, Arun found solace in the warm embrace of his only remaining family member- his grandmother, Shanti Devi.
Struggles & Dreams of Arun
Arun with his grandmother lives in a small & dilapidated home in Darkha village. Poverty clings to their lives like a relentless shadow. Each day is a battle for survival. His grandmother wakes up before sunrise and prepares limited meals with her frail hands. She sacrifices her own food to ensure that Arun has enough to eat. Despite being old, she works as a daily wage worker in the farm fields. The wrinkles etched on her face are a testament to the hardships she has endured.
Despite the poverty that envelops their lives, Arun's grandmother pours all her love and devotion into raising him. Arun, while growing up, has established a dream of pursuing high-quality higher education and unlocking the doors of opportunity that lay beyond his village.
However, he is aware that his grandmother cannot afford his further schooling. Because for higher education he will need to go out of her village (Darkha) and enroll himself in a college in Patna which is about 170 kilometers from his village.
It is an impossible thing for someone like Arun. It is impossible for him to move to Patna and pay his rent, food, college, tuition, and other expenses. Basically, his right to education is going to end here. The dream of his pursuing high-quality higher education is going to be permanently lost in the mud of poverty.
Arun's Quest for Scholarship
Arun's school teacher, Mr. RS Kumar understood Arun's helplessness very well. He tells Arun about some scholarship programs offered to poor but talented students in India. Arun gets to know about an US based foundation who is providing scholarships to indigent students for their higher studies.
With dreams in his eyes and hope in his heart, Arun applies for a scholarship program, believing it to be his ticket to the world of possibilities.
But, in the world, there are more mouths than bread. Another boy named Laxman who was born into a well-to-do family in Katrol village of Bhind (Madhya Pradesh) has also applied for the same scholarship as Arun.
Here is a thing about scholarships, they are in limited numbers and the applicants are uncountable. For the calendar year of 2017-18, a total of 4,946 scholarships were offered by the US based foundation. The total number of candidates who applied for these scholarships was more than 11,200.
When the day of the announcement comes, Arun goes to a nearby computer cyber cafe outside his village and starts checking his name in the list of selected candidates. With each passing name, Arun's heart skipped a beat, hoping to see his own. But as fate would have it, his name is not on the list.
This breaks Arun's heart, it is a bitter pill to swallow, all of his dreams have shattered, and tears are welling up in his eyes as he is trying to hide his disappointment from his grandmother. His grandmother consoles him and advises him to have faith in god, good things will happen to him someday. Arun mourns alone throughout the night while sitting in front of a picture of his parents.
On the other hand, Laxman Tiwari has been awarded the scholarship. Money has never been a barrier to Laxman's dreams but still, he got the opportunity that Arun deserved. This scholarship was a chance for Arun to rise above his circumstances and creates a better life for himself and his grandmother.
When Arun's schoolteacher gets to know about this, he gets so upset and writes a letter to the US based scholarship foundation demanding a revaluation of Arun's scholarship application. In the letter, Mr. RS Kumar describes Arun's condition & problems and advises the foundation to organize a physical visit to Arun's home in Darkha, Jamui.
But, it was not possible for the scholarship foundation to do a physical visit in Darkha village of Jamui. India is a big country that has several remote & rural regions which are not easily accessible.
Even if it was a challenging assignment, it must be completed. For students like Arun to receive the scholarship and fulfill their aspirations, this gap needed to be filled immediately.
Dreams Rewritten
After a few days, Mr. RS Kumar receives a letter from the foundation that stated, "We are going to do physical visits on the house of selected and some unselected students in the coming days and Arun's house is also on the list".
Mr. RS Kumar goes to Arun and hugs him in excitement. He informs Arun about the letter and tells him to keep believing as there is still a chance to get the scholarship.
A light of hope ignites in Arun's heart. He runs to his grandmother and tells everything to her. His grandmother blesses him and her blessings got real this time. After a few days, a physical visit has happened at Arun's home.
During the visit, the field executive finds that Arun's home is very small & old and it doesn't have basic life amenities. Their home has limited electricity access and it also lacks proper cooking appliances. They have only one fan & light bulb in their home. They have inadequate bedding, limited seating arrangements, and insufficient storage for personal belongings.
The field visit executive gets to know about Arun's story, his grandmother's struggle, and their financial condition. She is in no belief how the hell this boy has not got selected for the scholarship on the first chance. The field executive covers the full story and shares it with the organization she is working for.
Another physical visit happened at Laxman's home in Katrol village (Bhind). The field executive inspects all the details that Laxman mentioned in the application form. He talked with Laxman's family, make an interview video, click pictures, and shoot videos of Laxman's house. The field visit executive finds that the Laxman family has a tractor, van, bike, ac, fridge, washing machine, modular kitchen, and some more luxury appliances. He shares all the information with his company to examine.
Arun's application for the scholarship gets approved this time and it all becomes possible only because of a physical visit. With the help of this scholarship, Arun got a quality higher education. He completed his BTech degree and became a Computer Science Engineer in a multinational company in Bangalore.
He is now earning good money and has recently bought a new house in Bangalore where he lives happily with his grandmother. Arun has named his house 'Shanti Niwas' after her grandmother's name.
After Arun's case, the US based foundation understood that it is very important to check properly who truly deserves a scholarship. The foundation then mandates physical visits as an essential practice before shortlisting applicants for the scholarships.
It is very important to visit every applicant's home and check out their financial condition, lifestyle, home, family background, and more before awarding the scholarship.
The field executive who covered the story of Arun is an employee of Anaxee Digital Runners. Anaxee Digital Runners extended the hand of support to the US based foundation in helping them to reach & identify truly deserving candidates for scholarships. It appears to be a time and money-consuming task, but Anaxee's feet-on-street model, allowed the task to be done in the shortest amount of time with the least amount of money spent.
Disclaimer: The above case study is based on a true story, but the names of individuals and locations have been changed to protect their privacy and maintain confidentiality. The events portrayed may have been modified for dramatic effect. Reader discretion is advised.
♦ Anaxee Digital Runner Pvt. Ltd. is India's largest last-mile network of Digital Runners spread across all the remote regions of India. Anaxee has a foot-on-street model, which includes more than 40,000 Digital Runners dispersed in more than 540 districts in India.