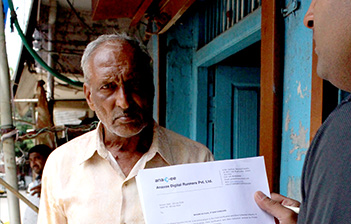 Address Verification
Oct 23 2019
---
Data is All-Mighty in today's digital world. Refined and bigger the data set, more precise and accurate are the decisions you take. Collect the data from more than 11 Lakh pin codes and be ready to wear a crown in your sector.
Problem
In a country like India, with such an enormous landmass with such a varied geography, it's always difficult to reach every corner and get the correct.
A big brand in the BFSI sector with millions of customer base and heavy legacy infrastructure while implementing its digital strategies for the coming generations wanted to have a partner who can verify the addresses for existing and upcoming customers. The problem was the stringent budget allocated to implement this. Apart from being a norm it's also useful for the company to reduce fraud.
Solution
With a tight budget and customers at scattered geographies, they contacted Anaxee with the problem. We implemented a pilot project for them to show how accurate , well defined and authentic data we can provide them.
After the pilot, with some efficiency modelling we rolled out the complete project.
Anaxee activated hundreds of Digital Runners to gather authentic data which is also cross verified by our internal teams and provided millions of data points with proofs in ⅓ of the time taken by other companies that too with minimum expenses.