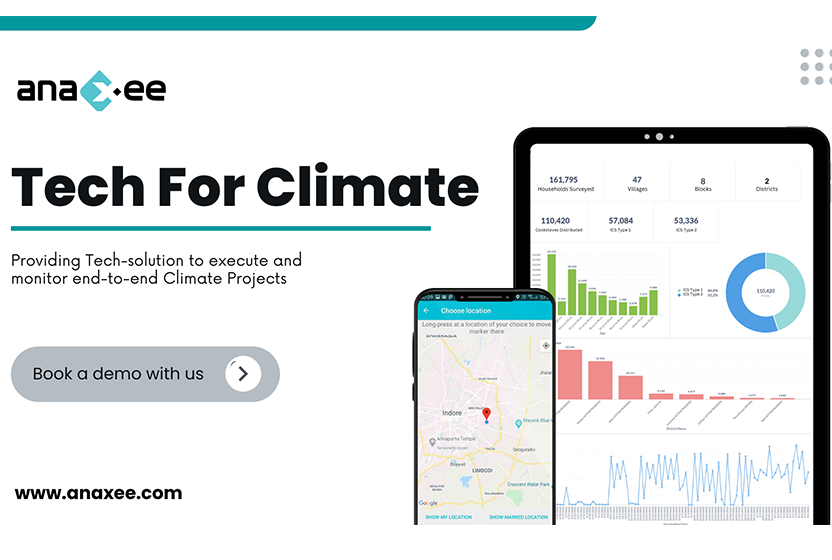 Tech for Climate
Oct 22 2022
---
Tech for Climate –
To assess the carbon impact and authenticity of any carbon-related project, it is important to have a tech-enabled approach.
We at Anaxee can provide an end-to-end tech solution (Mobile App + Data Dashboards) to monitor and execute such projects. For instance, we have a ready tech platform for the complete execution and monitoring of the Clean Cooking (Cookstove Distribution) project from Baseline Survey > Product Demo & Awareness > Household Registration > Cookstove Distribution > Usage Survey & Monitor.
Our platform brings complete visibility and traceability to the entire process.
In India, using this technology, we have executed large-scale Social Projects where we reached 3 Million rural people with 20,000 Field Executives.
Overall, we have an extensive network of 40,000+ Field Executives (tech-enabled feet on street) covering over 60% of the country.
Tech with multiple Use cases-
• Cookstove Distribution
• Water Filter / Purification
• Solar Device Distribution
• Agroforestry
• Regenerative Agriculture
• Plantation
• Irrigation Devices
What do you get?
• Complete Last-Mile Visibility
• Track your field personnel
• Quantify the Impact generated
• Perform Multiple Analysis and Insights on Real-Time Dashboards
In India, we have used our technology to execute large-scale Social Projects:
• Reached 4 Million+ Rural people
• Across 50,000+ villages
• 40,000+ Field Executives using our app
For Instance,
In the Clean Cooking Domain (Cookstove Distribution)
We have developed an end-to-end tech platform to capture, store and monitor data for the entire project lifecycle.
The app provides customized tasks creation and management in an effortless manner.
Using our tech you can-
• Make repeat visits
• Create a customized workflow
• Zero dependence on field staff
• Baseline Survey
• Product Demo
• Household Registration
• ICS Distribution & Training
• Project Monitoring
Create Detailed Profile of every beneficiary:
• Spreadsheet, Gallery, Map views
• Detailed Data Dashboard
• Colour-coded
• Reduced Spelling errors
• Easy to Sort/ Filter
With the growing requirement of tech-enabled carbon projects, we are seeing major traction in this domain. We are open to providing technology as a service to multiple organisations across the globe to better implement and monitor such projects.
Please reach out to us for a demo today!