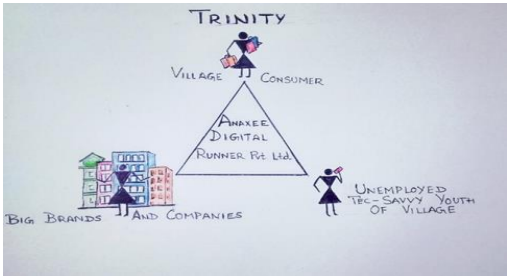 TRINITY OF SUCCESS —A WIN, WIN, WIN FOR ALL!
Oct 13 2021
---
For the villagers as customers, it's a win-win situation!
For businesses wanting to reach villages, it's a win-win situation!
And of course, for the tech-savvy youth of villages looking for employment opportunities, it's a win-win situation as
well!
HOW? Explains Co-Founder & COO of Anaxee Digital Runners, Mrs. Arti Agarwal, speaking at India Today mindrocks Youth Summit 2019: "Like Ola and Uber, Anaxee Digital Runners Pvt. Ltd. is a technology-enabled platform. And like Ola & Uber drivers, our "Digital Runner" is a freelancer. The company's sole goal is to contribute for India's economy to flourish inclusively".
As she explains, the first of the three Trinity is the customer, who is known as the villager. Cities provide access to a
wide range of products and excellent services. But, even if there is a demand or funding available, such products and
services cannot be obtained in villages and tier 2 and tier 3 towns…
The second trinity consists of large corporations, big brands, banks, and insurance companies etc., that wish to enter these remote geographies. Big companies and brands have no idea what their customers at villages want or how to get in touch with them.
The third trinity is comprised of tech-savvy young people of village. Unemployed, well-educated, and intelligent
country youngsters migrate to cities in search of work. The goal is to provide them with employment options in their
local community. Anaxee recruits residents from these towns and villages and assigns them tasks that can be
completed with a smartphone; in essence, a smartphone user serves as its "Digital Runner".
Anaxee, serves as a platform that connects these three dots of the trinity, resulting in a win-win-win situation for
everyone.
As a result, there will be socio-economic growth, as well as the realisation of Prime Minister Narendra Modi's dream
of "Digital India"!